Rosa Brañas Abad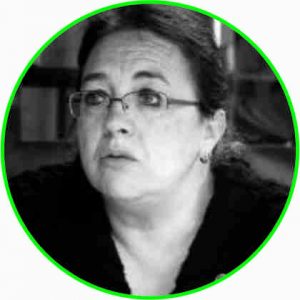 SCOPUS | ORCID
Associate Professor of Ancient History.
Degree in Geography and History in the specialties of Ancient and Prehistoric History and Archaeology (USC 1988 and 1989). She graduated in 1995 with a thesis on Galician Ancient History and a doctor's degree in Geography and History (USC 1999) in the same specialty. Interim teacher of Ancient History in the Faculty of History of Ourense in 2007-2008 and assistant lecturer since 2015. Teacher and tutor of the UNED in Ancient History since 2010 in Pontevedra and A Coruña. Trainer in Historical and Archaeological Heritage in private companies since 2011.
José Antonio Díaz Fernández
SCOPUS | ORCID
Degree in Geography and History with a specialization in Applied Geography (USC). Doctor by the USC with the Doctoral Thesis "The system of transports and terrestrial communications in the regional development of Galicia".
He has worked as a specialist consultant in Strategic Planning, in the Direction in strategic studies 2004-2018, as a P-6 interim teacher. USC. 2009-2010, professor at UVIGO, department of History, Art and Geography. 2014-2020. Associate professor UVIGO P-6 2014-2018, assistant professor doctor UVIGO 2018-2020 and director of the UVIGO MINIUS magazine from December 2018 to the present.
His research activity includes the following publications:
Book: Tourism in Galicia. Pontevedra County Council. 1999. / Book: The Transport and Communication System in the Metropolitan Area of A Coruña. Edit. Provincial Council of A Coruña. 2000 / Book:The railway in the province of Lugo. Lugo County Council. 2005 / Book: Approach to the railway transport policy in Galicia: Its contribution to regional development. Edit. Pontevedra Provincial Council. 2002 / Book: Galician ports of general interest in the face of the challenge of the 21st century. IUEM Publishing House. UDC. 2005 / Book: The transport and communication system in the regional development of Galicia. USC Edition. 2007 / Book: The marinas in Galicia. Port Authority of A Coruña. 2008 / Book: The Coastal Areas in Galicia. IUEM Edition. UDC. 2006 / Book: Tourism and local development: The strategic role of the Administration. Edit. Provincial Council of A Coruña. 2009- / Book: Multimodal transport infrastructures and logistics services. Ministry of Fishing and Maritime Affairs. Xunta de Galicia 2008- / Book: Multimodal transport infrastructure policy and logistics services. IGETI Edition. 2006. / Book: Transport and Communication Infrastructures in Galicia: The State of the Art. Volume II. Hercules Editions. Collection: The Economy of Galicia.