Alba Antía Rodríguez Nóvoa
SCOPUS | ORCID
Degree in History and MA in Archaeology at the University of Santiago de Compostela (USC). Nowadays, she combines her doctoral thesis with different activities and researches within the framework of the GEPN. Her work revolves around the ceramic production of the Miño area in the Iron Age.
Marta Lago Cerviño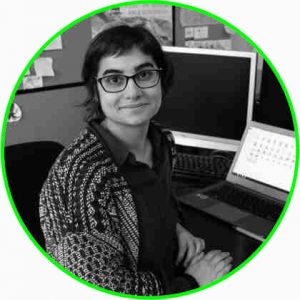 SCOPUS | ORCID
She graduated in Conservation and Restoration of Cultural Assets, specializing in archaeological materials, from the Escola Superior de Conservación e Restauración de Bens Culturais de Galicia. University Master in Technologies for the Protection of the Immovable Cultural Heritage. University of Vigo.
She began her relationship with the Department of Archaeology of the University of Vigo in 2004, within the project of Research and Musealization of the Roman Villa of Toralla" (Vigo), linked to the University of Vigo in the execution and direction of conservation work in the Conxunto Rupestre do Monte do Señoriño-Armea, A Cibdá de Armea and San Salvador dos Penedos (Allariz). As well as conservation and restoration treatments of ceramic material from the Roman site of Currás (Tomiño) or the Massó Museum collection (Bueu). She is currently directing the conservation and restoration work tat the Roman camp in A Ciadella (Sobrado dos Monxes).
Patricia Valle Abad
SCOPUS | ORCID
Patricia Valle Abad (Darmstadt, 1988). She is a predoctoral researcher of the Group of Studies on Archaeology, Antiquity and Territory (GEAAT) at Vigo University. She develops her research around the coastal necropolis of the northwest of the peninsula in antiquity. He participates in several research projects, including the "Project for the cleaning, intervention and archaeological record in the upper medieval site of Castelo de Mouresiños (San Salvador dos Penedos, Allariz)", or the "Project for the excavation and consolidation in the site of Armea (Santa Mariña de Augas Santas, Allariz)", or the "Project of archaeological intervention, photogrammetric documentation and cultural dynamization of the necropolis of Medeiros (Monterrei, Ourense) and the "Project of intervention and restoration of A Cerca-Muro de Búbal (Oímbra-Monterrei).