Miguel Ángel Álvarez Vázquez
SCOPUS | ORCID
Degree in Environmental Sciences (ULE, 2011); Master in Advanced Chemistry (UVigo & USC, 2012) and Teaching, Vocational Training and Language Teaching (UVigo, 2013). Doctor from UVigo, USC, UDC, UTAD, UMinho & UAVR universities (Marine Science, Technology and Management, Campus of Mar International Campus of Excellence, 2017). He taught Geography and History (subjects in the Physical Geography Area), Primary Education (Didactics of the Experimental Sciences) and Early Childhood Education (Geography).
Researcher in the Group of Studies on Archeology, Antiquity and Territory, GEAAT (UVigo), member of the Group of Educational Innovation in Heritage Heritage Action, GIDEP (UVigo).
Author of collective works, scientific articles in indexed magazines and communications to congresses, related to processes of society-nature interrelation based on geochemical tracers; alterations of natural and anthropogenic origin in river systems; and natural and cultural heritage related to river environments. He is currently developing his research as a postdoctoral researcher (Xunta de Galicia) around the traceability of the human punch in river records.
Keywords: integrated geography, environmental history, chemostratigraphy, small rivers.
Eduardo Mendez-Quintas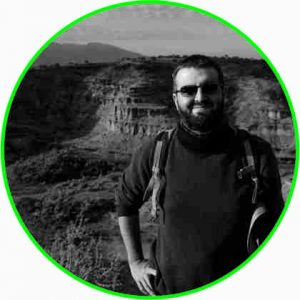 SCOPUS | ORCID
Post-doctoral researcher at the Group of Studies on Archaeology, Antiquity and Territory (GEAAT) of the UVigo. He focuses his research on European and African ancient prehistory. He works on the study of human populations with the Achelogian technology of the Lower and Middle Pleistocene, as well as on the analysis of distribution patterns and taphonomic conditions on the sites.
He develops its research in Peninsula sites, especially in the Miño River basin, directing excavations in different enclaves such as Arbo, Porto Maior or Gándaras de Budiño. He is also co-director of the "Italo-Spanish Archaeological Mission at Melka Kunture and Balchit" (Ethiopia) and a member of the research team of "The Olduvai Paleoanthropology and Paleoecology Project (TOPPP)" of Olduvai Gorge (Tanzania).
Berta Morell Rovira
SCOPUS | ORCID
She graduated in Prehistoric Archaeology at the Autonomous University of Barcelona (2019) and is a postdoctoral researcher (Xunta de Galicia. A) at the Department of History, Art and Geography and the Group of Studies on Archaeology, Antiquity and Territory (GEAAT) of the UVigo. At present, he is carrying out a research stay in the Bioxeoloxy Group of the University of Tübingen (Germany).
The main research lines are the mobility patterns and the raw material exchange networks of the Neolithic societies of the NE peninsula and Central Europe, based on strontium isotope analysis and radiocarbon dating.